Build a Sales Pipeline App with Airtable
Most companies and organisations, even non-profit organisations, are selling something, so a sales pipeline process is an essential part of an organisation's operations. A sales pipeline process allows organisations to track their sales opportunities from an initial enquiry or lead through to closing.
This guide will take you through the process of building a sales pipeline (or CRM) app on Airtable, step by step.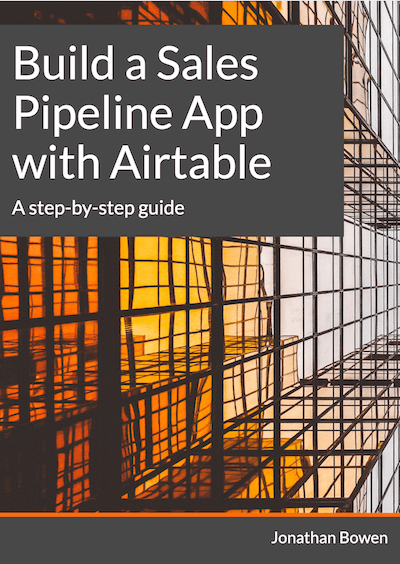 The guide will show you how to:
Design your sales pipeline app
Build the core functionality

Tables for Customers, Products & Services, Sales Opportunities
Tracking lead statuses - enquiry, quote, closed opportunities
Recording dates and opportunity values
Assigning sales people to opportunities
Adding organisations with multiple contacts/customers

Add sales reporting and dashboards
Add Airtable Views to segment your data and focus on what you need to see right now
Use Airtable Automations to notify users of assignments
This 50 page guide will be invaluable if you want to build a sales pipeline app using Airtable, but it is also a great primer for building anything in Airtable. Our structured, iterative approach to Airtable app development will show you the right way to build Airtable apps and how to take advantage of Airtable's great features.
Buy now - $9